Town Theatre - Hystory

The foundations of the "Teatro Municipale" (town theatre) of Casale Monferrato were first laid in 1785, based on an original plan by Abbot Agostino Vitoli from Spoleto. The building is a real architectural gem, with its magnificent stuccoes, gold plating, and velvet fabric. They all enrich its interiors, which are divided into four different tiers of boxes, the "Loggioni" (galleries) being the highest and farthest away from the central stage. They were reserved to the lower walks of life, who could not afford more expensive tickets. Therefore, they were commonly nicknamed "the peanut galleries".

November 26th 1791 marked the official opening of the theatre with a play by Vincenzo Fabrizio, La moglie capricciosa ("The petulant wife"). It was then closed during the Napoleonic age and so it remained for several decades afterwards.
Its interiors underwent a new and extensive embellishment in the age of King Carlo Alberto of the Savoia family.

It reopened in 1840 with Beatrice di Tenda, a performance by Vincenzo Bellini, meant to honour the wife of a Local military commander, Facino Cane, who lived in the second half of the 14th century.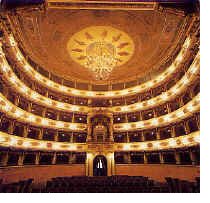 Many artists worked inside the theatre and enriched it with the result of their craftsmanship:- Leone Brinzi, painter and woodcarver. His stuccoes and decorations can still be admired all along the tiers of boxes.

- Painter Angelo Moja, whose fresco depicting The muses still decorates the ceiling.
- Sculptor Abbondio Sangiorgio, a household name for Casale and one of the most famous local artists. He is the sculptor of the equestrian statue of Carlo Alberto, which has come to identify the square in Casale where it stands. This made him the perfect artist for the Caryatids sculptures on each side of the Royal Box.

On January 5th, 1861 the theatre became property of the town hall, after the Società dei nobili (The Aristrocrats) sold it to the Comune di Casale Monferrato (the local council).
This new ownership was meant to make the theatre more accessible to a wider audience, but an increasing series of unexpected hardships led once more to its closing.

During World War Two the theatre was reduced to a mere warehouse, until its final closing and its recent restauration.

On Sunday 4th March, 1990 it reopened at last with Brindisi, a performance by Vittorio Gassman.

Nowadays, all the plays, the dance shows and the concerts on the bill are a key point in the cultural cyclorama in Casale Monferrato.

The theatre also hosts conferences and prestigious cultural meetings.

LINK
Ultima Modifica: 14 Gennaio 2021